A change in mindset: what could go right when starting a new job?
Our minds are pretty phenomenal, really. Neuroscience has taught us that. We can create more positive experiences by imagining more helpful and optimistic outcomes. And rehearsing these in our minds. Perhaps you've had a go at this yourself?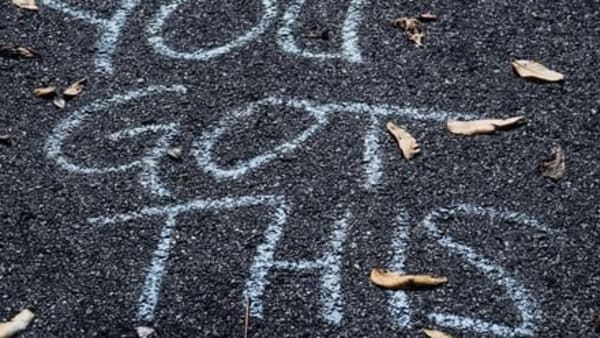 This blog will set out an ideal scenario of starting out in a new role. One that goes well. Because all too often we think of the worst-case scenario. And all associated failures. But having a change in mindset, I feel, is very empowering.
Because why can't we have a great experience? You have the skills, personality and tools to make it happen. You've been hired to do the role, after all.
"I've arrived at the office, and I've had a seamless journey. I've received clear instructions ahead of my first day in terms of where to park, which building to go to and who to ask for. I know where I'm heading, but at the same time, I've been here several times already. Not only for my interviews, but to meet with the team and to verse myself in the environment, and surrounding space. I've been allowed to take my time and wander; slowly, repeatedly, in ways that help me familiarise myself with my environment (I need clear, fixed landmarks). Plus, I've done two practise drives, so I'm confident about my journey. Did I mention that I start work at 7.30am? My workplace offers flexible working hours, and I'm so much more of a morning person. The roads are clear, plus I get to have some quiet time before the majority of my colleagues arrive. Though the noise isn't too bad I'd say, as I have my headphones at hand, which I'm allowed to wear.
I have a meeting with my buddy booked in, who is brilliant, I must say
He's friendly, supportive and genuinely wants to help me. I save up all my questions for him and we go through them one by one. He's patient and has an open-minded approach to finding solutions. Even though I've only met him twice, I already feel that I have someone to go to if I have an issue. It's nice to have started to build this relationship already – prior to starting my new job. Plus, he knows I'm autistic. I was a bit stressed out about no-one knowing this about me, but at the same time I didn't wish to tell lots of people who I don't know yet. With my buddy being in a separate team to me, he felt like the most apt person to tell.
The workplace environment is well designed and considered. There are soft lights that are adjustable in terms of their levels of dimness, plus we even have an area in the office that has dimmed lighting (as standard), if anyone wants to work there. This is where my desk is setup. I face out across the open-plan office (not quite my style, but I like to sit close to my team), with my back to a wall. This helps minimise the sensory stimulus around me, which helps keep my anxiety and overwhelm under control. The kitchen, toilets and staffroom are all at the opposite end of the floor, so I'm not disturbed by loud disruptive sounds and strong smells.
In terms of the job itself, I know what my key responsibilities are as they are printed out in this neat portable blue folder I have
This contains all important documents, like my job description, who everyone is (with accompanying photos), as well as maps and other notes that I've made. It is all in one place. I know what my role entails and how this feeds into our overall team, department and organisation's goals. I know where I'm going. And this feels great!
We only have twenty-minute meetings at this organisation, and no meetings are allowed on Wednesdays and Fridays. Apparently, August is a meeting-free month! Nothing makes me more tired than constant back-to-back meetings, especially with multiple and different people, so I'm delighted by this rule!
At lunch, I'm able to escape for a walk to recharge, and be completely by myself. There's an informal lunch with others in my department every Friday, which my buddy has told me about. I'm keen to meet new people, so I think I'll join. My buddy will go with me this Friday. He's already introduced me to some other new people, and one apparently loves swimming – my favourite activity. There's a pool next to our work, so I may join her to do this once a week. We have flexible hours in terms of our working day and lunchbreak, so this not only gives me the opportunity to go swimming, but to know that I can nap in my car if I need to recharge for longer, yet to also have a shorter break and leave work early. I feel in charge and in control of my time and how I use it. This is fantastically refreshing because I've never felt this way in an office before.
Later in the afternoon, I meet with my manager. She seems nice and has said that I can ask her if I need an additional catch up or if there's anything I need help with.
We're going to have weekly catch ups to begin with, and every month we will have a short review to run over my objectives and how I'm progressing
I'm not going to lie, it has been an intense first day at work with so much information to take in, however I feel very content and relieved at how it's gone. Relieved that I've gotten through it, though more so in a celebratory way. And content because its's been such a great day. I feel supported, understood and I have people to turn to. My team are really passionate about the work we do, and the organisation seems sensible with what it wants from us, and has tried to make the environment as comfortable as possible, for all types of people. It also seems open to new possibilities and suggestions. Just my type of place! I think I'm going to get along just fine here :).
I'm heading home and I've already booked in a day off work for each fortnight while I get used to the job and settle in. I've explained to my manager that this will help me as I can get overwhelmed at times. She seemed happy with this solution and said I can use my holidays however I like. Fab."
So this is my ideal first day at work. What's yours?
Though writing it out may seem like a simple concept, the process of working out your ideal first day at work is immensely powerful. Once written, read it back as many times as you like. Stick it under your pillow or behind your loo door. Really imagine being there and immerse yourself in how it feels. You can even do write ups for what it's like one, three or six months into the role. Imagine the sounds, colours, smells and smiles. All of it. You'll be surprised at how calming this exercise can be and how it can get you into a really positive mindset. And this works for a new job, or any area of your life really, and I would really like to encourage you to envisage more positive future outcomes for your life.
September 2021
Share this page